Online hate speech probe over 'celebrating police killings' in Germany
Comments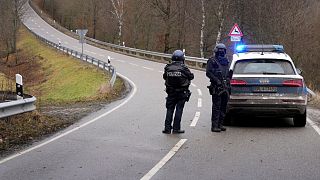 -
German investigators have recorded nearly 400 cases of online hate speech since the murder of two active-duty police officers last week. Authorities claim that some were "downright celebrating" or "mocking" their deaths.
"Congratulations to the perpetrators," one person wrote online. "Only a dead cop is a good cop! … The cops should be afraid of us!"
Another person posted online: "Seven cop cars torched and two killed. What better way to start the week?"
German police told Euronews that they are working with social media platforms to delete the hate speech after "they are no longer needed for the criminal investigation".
Some 102 of the 399 posts were "criminally relevant", according to officials in the western state of Rhineland-Palatinate, and authorities have already tracked down fifteen suspects.
Last Monday's early morning shooting on a rural road in western Germany shocked the country.
The original two officers were shot after stopping two men carrying poached wild animals in their vans. The suspects were arrested hours after the attack.
"We will not accept people downright celebrating the cold-blooded killing of our two police colleagues and mocking the victims," said the regional government's interior minister, Roger Lewentz.
He described the shooting of the two young officers as a "cowardly murder in the most brutal way".
In a statement directed at the European Parliament on Tuesday, the president of the European Confederation of Police said:
"This brutal, tragic, and completely senseless murder is but one of many incidences in recent months of horrifying violence against police officers carrying out their daily duty to protect the public".
Calum Steele then called on the body "to bring this deteriorating situation to light at political levels through a debate".