The cross border cooperation between Austria and Slovakia saving a common heritage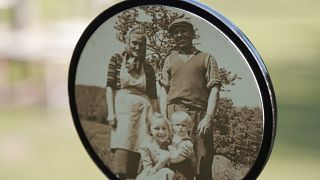 The woods scattered between Austria and Slovakia were once home to the Huncokárs, German native speakers who arrived in the region centuries ago. They called themselves the forest people and they lived from the trees and actually in the forests. They brought with them new woodcutting technologies.
Hundreds of years later, they no longer live in the region as they were largely dispersed after 1945. However, their legacy is being helped to live on as the woods are now home to an 'Interreg' European project aimed at improving quality tourism by highlighting common cultural and natural resources. This project is trying to develop the area's potential through cross-border cooperation and it has also decided to make sure the forest people and their heritage are not forgotten.
Near the town of Modra, in Slovakia, Andrej Batyás, the Head of the Joint Secretariat of the EU Interreg Slovakia-Austria Programme, explained to euronews why this cross-border cooperation is key for a better future for younger generations.
He explains that it's important for the local communities. There are many cities, partner towns, cooperating in this project. "In the past, we always shared some common history, especially as we are very close to the border", he adds. "So from these Austrian partner towns, there are many people coming here to Slovakia all the time". He believes that this has led to supporting tourism on both sides of the border and that not only helps "these areas to rise in economic terms but also in terms of cultural heritage".
He also thinks that supporting their common history is important because what would happen if they forget about it? To him, they need "to start from the past and teach kids, so they know what happened and they know we have something in common with Austrian people."