Is corruption why Montenegro's ambitious motorway project is leading nowhere?
Comments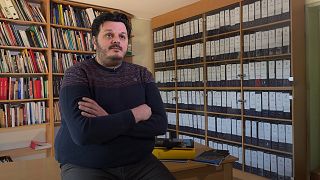 -
In 2014, China offered Montenegro one billion dollars to help start an ambitious motorway project. Not only was the project funded by China, but a Chinese contractor was to carry out the work. The new road was expected to link Bar harbour in the south of the country to the border with Serbia in the north. The idea was conceived by former Prime Minister and now President, Milo Đukanović, to boost the economy and create jobs. So far the road has not been completed and now the country is lacking the funds to do finish it.
Dejan Milovac is an investigative researcher for the anti-corruption organisation MANS. The NGO is co-financed by the European Union and it looks into all kinds of corruption within public procurement, elections, urbanisation and much more.
In an exclusive interview with Euronews, Milovac gives us his insight into Montenegro's billion-dollar motorway project financed by China. Have funds been misused? Was there a public tender? Who is to blame?
_To hear his answers, click on the media player above. _