Scotland's First Minister Nicola Sturgeon cleared of ministerial code breach
Comments
By Euronews with AP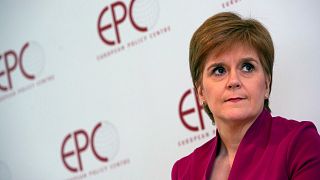 -
Copyright

AP Photo/Virginia Mayo
Scotland's First Minister Nicola Sturgeon has not been found in breach of the ministerial code of conduct over her involvement in the investigation into harassment complaints against Alex Salmond, an independent inquiry has found.
"I am of the opinion that the First Minister did not breach the provisions of the Ministerial Code," James Hamilton, the former director of Ireland's public prosecutions, said in a statement accompanying the release of his report.
The investigation looked at whether Sturgeon had misled parliament over meetings she held with Salmond over the case and whether she had attempted to influence the conduct of the investigation against him.
Salmond, Scotland's former First Minister, was tried and acquitted last year on sexual assault charges, and claims the allegations made by several women were part of a conspiracy to wreck his political career.
Scotland's highest court ruled in 2019 that the way the Scottish government had handled the misconduct allegations was unlawful and "tainted by apparent bias" and awarded Salmond £500,000 (€584,000) in expenses.
Last week a parliamentary committee concluded that Sturgeon had misled Scottish lawmakers and that she had contradicted herself in her account of a meeting at the start of the case.
But Hamilton found that although Sturgeon's testimony to lawmakers had resulted in a "incomplete narrative of events", this was the result of "a genuine failure of recollection and was not deliberate."
Sturgeon welcomed the lawyer's finding and said, "I sought at every stage in this issue to act with integrity and in the public interest."
The case exposed a rift in the ruling Scottish National Party (SNP) and pitted Sturgeon against her former mentor.
The 61-page report was released just weeks before a Scottish Parliament election. The SNP leads in opinion polls. Sturgeon says if she wins a majority, she will push for a new independence referendum and challenge British Prime Minister Boris Johnson in the courts, if his government refuses to agree.
The SNP argues that Brexit has fundamentally changed the situation by dragging Scotland out of the European Union against its will. A majority of Scottish voters backed "remain" in the UK's 2016 EU membership referendum.