Several more areas in England to be put under tightest coronavirus restrictions
Comments
By Euronews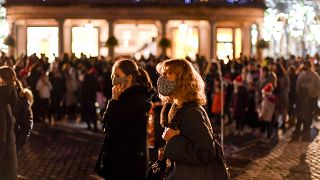 -
Copyright

AP Photo/Kirsty Wigglesworth
The UK government will move several parts of the southeast and southwest of England to its highest level of coronavirus restrictions from one minute after midnight on December 26, Matt Hancock announced on Wednesday.
The UK health minister said that the new variant discovered in the country was spreading more quickly and that the government had to act.
Cases have risen 57% across in the last week and the average number of COVID-19 hospitalisations are 1,909 per day and nearly 19,000 people are hospitalised, Hancock said, as he urged people to limit contacts for Christmas as much as possible.
"This Christmas and the start of 2021 is going to be tough. The new variant makes everything much harder because it spreads so much faster. But we mustn't give up now," Hancock said.
He added that the government had learned that "Tier 3" was not enough to prevent the spread of the new variant, which is more transmissible.
Sussex, Oxfordshire, Suffolk, Norfolk, Cambridgeshire, parts of Essex, Waverly, Surrey and Hampshire will all see the measures imposed from December 26. Bristol, Gloucestershire, Somerset, Swindon, the Isle of Wight, New Forest, Northamptonshire as well as Cheshire and Warrington will move to Tier 3 restrictions.
Under Tier 3, people are not allowed to meet with others outside their household indoors but can meet outdoors in groups of up to six people. Retail shops are allowed to remain open.
Government officials revealed last week that they were tracking a mutated version of the virus in the UK and said on Saturday that it had become the dominant variant of coronavirus in London and parts of the southeast.
Multiple countries had cut off travel from the UK with the border between France and the country reopening on Wednesday for French citizens, residents and those with a "legitimate reason" to travel.
New restrictions on travel from South Africa
Hancock also said that the UK had now confirmed it had found two cases of a different variant of coronavirus, found in South Africa. He said they were thankful to the South Africans for their transparency and would now quarantine cases and contacts of cases found in the UK.
The country will also place restrictions on travel from South Africa and will now quarantine people who have been to South Africa in the last 14 days.
Scientists said they were still learning about this variant but that it also appeared to spread quickly.
AstraZeneca vaccine to be reviewed for potential approval
Hancock said the UK was expanding community testing where the rate of infection is highest. He said the key was to find the one in three people who carry the virus without symptoms.
Rapid turnaround tests were "proving to be extremely effective" at finding cases where they wouldn't normally be found, he said.
"The vaccine is our route out of this," Hancock added.
The Oxford/AstraZeneca vaccine has submitted data for approval to the UK regulator. Authorisation for this vaccine, which is cheaper than the mRNA vaccines by Pfizer and Moderna, could be key to vaccinating more people.
Hancock said they had begun vaccinating people in care homes as well, stating that he was delighted about this move.
Watch Hancock's statement in the above video player.