Watch again: PM Johnson to seek another route to an election after MPs reject his bid
Comments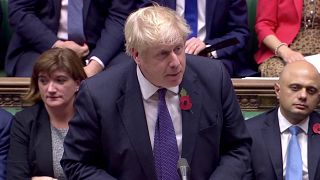 -
MPs have rejected British Prime Minister Boris Johnson's request for an early election on December 12 as he failed to gain the two-thirds majority backing in parliament he required.
But Johson will seek another legislative route to an election as early as Tuesday, he told parliament after the vote.
Some 299 MPs supported the motion for an early election, short of the 434 votes Johnson needed, making it the third defeat to call an election.
What will happen now?
The prime minister will now likely seek a different route to an election — by passing a law with a simple majority that bypasses the 2011 Fixed-term Parliaments Act.
Immediately afterwards the announcement of the vote's result, Johnson said the government would give notice of a short bill for an election on December 12.
"Later on this evening, the government will give notice of presentation for a short bill for an election on the 12th of December so we can finally get Brexit done," Johnson told parliament
But to pass a new law, Johnson would need the support of opposition parties such as the Scottish National Party (SNP) and the Liberal Democrats, which have been calling for a December 9 election, along with the guarantee that Johnson will not resume debate on the Brexit deal he agreed with Brussels.
They have proposed December 9, in part due to concern university students may have gone home for the Christmas holidays by December 12.
The Labour Party will carefully consider any legislation which would lock in an early election date, said the party's leader Jeremy Corbyn.
"We will consider carefully any legislation proposed that locks in the date," Corbyn told parliament.
"When no deal is off the table, when the date for an election can be fixed in law and when we can ensure students are not being disenfranchised, we will back an election."
Johnson confirms EU's Brexit delay
Johnson confirmed he accepted the EU's Brexit delay but asked the bloc to make clear that there could be no further extension to the divorce beyond January 31.
"I have no discretion under the UK's European Union (Withdrawal) (No. 2) Act 2019, which was imposed on this government against its will, to do anything other than confirm the UK's formal agreement to this extension," Johnson said in a letter to European Council President Donald Tusk.
"This unwanted prolongation of the UK's membership of the EU is damaging to our democracy," Johnson said, adding that he was urging EU member states to make clear there could be no further extension after January 31.
Earlier on Monday, EU has agreed to offer the UK a Brexit "flextension" up to 31 January 2020, European Council President Donald Tusk said on Monday — a move that could help PM Boris Johnson in his quest for fresh elections.
It means Britain will not leave the EU on Thursday, as originally agreed, prolonging the saga of its withdrawal with only three days to go.
Johnson repeatedly said Brexit would happen on October 31 "do or die" but earlier this month he was forced by opponents to request an extension.
"The EU27 has agreed that it will accept the UK's request for a Brexit flextension until 31 January 2020," Tusk said of the idea of a "flexible extension", which means Britain could go earlier if its parliament can ratify the divorce bill.
The parliament will vote on Monday evening on whether to allow Johnson to hold the election he says is necessary to resolve the Brexit deadlock.
Without a majority in parliament, Johnson needs the support of opposition parties.
Read more: Brexit: Where are we now – and how did we get here?
He needs a two-thirds majority in the House of Commons in order to override the Fixed Term Parliament Act, passed by the Conservative-Liberal Democrat coalition in 2010.
The bill was designed to ensure stability by taking away the power of the incumbent government to call elections on a date of their choice, setting the parliamentary term to five years.
Britain's Labour party has ruled out supporting Johnson until the European Union agrees to extend the UK's Brexit deadline until January 31, 2020.
Another option
Meanwhile, two other opposition parties in the UK - the Liberal Democrats and the Scottish National Party (SNP) have offered Johnson an easier route to fresh elections.
In a letter to Tusk, Jo Swinson, Liberal Democrat leader, said that if the EU grants an extension to January 31, 2020, they and the SNP will propose an amendment to the Fixed Term Parliament Act to hold an election on December 9.
As an amendment, the bill would only need a simple majority to pass, with the SNP and Liberal Democrats 51 MPs getting Johnson over the line without the need for Labour Party support.
It is unclear whether Johnson will be willing publicly commit to avoiding a no deal exit, however, as the UK prime minister has repeatedly stated that to do so undermines Britain's negotiating strategy.