Watch again: Ireland unveils €1.2 billion fund to counter impact of a no-deal Brexit
Comments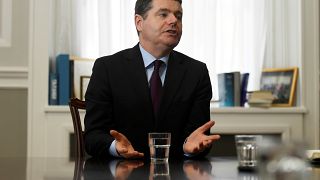 -
Ireland is stepping up preparations for a no-deal Brexit by putting aside €1.2 billion for the UK crashing out of the European Union.
"Brexit is the most pressing and immediate risk" to the Irish economy, the country's finance minister, Paschal Donohue, said on Tuesday as he unveiled next year's budget.
"No deal is our central assumption," Donohue told the Irish parliament, adding that such a scenario "will be very challenging for our country but it is a challenge that Ireland has a measure of".
The Irish 2020 budget comes just hours after the German Chancellor Angela Merkel reportedly told her British counterpart Boris Johnson that a Brexit deal is "overwhelmingly unlikely" unless the UK agreed to further compromises.
The UK also, on Tuesday, released a "No Deal Readiness Report" in which Johnson reiterated his pledge to take the UK out of the EU by October 31, with or without a deal.
READ MORE: Merkel tells Johnson Brexit deal is 'extremely unlikely' without compromise from the UK - Downing St
The minister announced that in the event the UK leaves the EU without a deal, Ireland's recently-acquired surplus would "swing to a deficit of 0.6% of GDP next year".
To mitigate the impact, Donohue unveiled a package of over €1.2 billion to respond to Brexit.
"It will be borrowed money. If we do not need ut, we will not borrow it. If no deal does not happen, it will not be borrowed for other purposes," he outlines.
In a no-deal scenario, the government will:
immediately deploy €220 million;
allocate €650 million to support agriculture, enterprise and tourism sectors and "to assist the most affected citizens and regions";
spend €350 million on extra social protection expenditure.
Donohue also announced that the economy is expected to grow by 0.7% next year.
He added that while Brexit is the country's most immediate risk "climate change is, without doubt, our defining challenge".
Among the measures, he outlined to decarbonise the economy are a progressive increase to the price of carbon from €20 per tonne currently to €80 by 2030.
Want more news?