'There is no endgame': Hong Kong activism leader Joshua Wong speaks to Euronews
Comments
By Euronews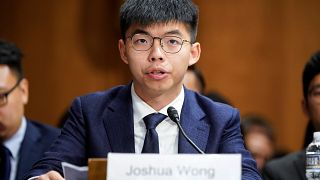 The Hong Kong protesters are engaged in an "infinity war" with China, Joshua Wong, an activist and one of the leaders of the pro-democracy movement, told Euronews.
"One day, [the] Communist Party of China will still exist, they will still use whatever means to interfere in Hong Kong's autonomy," he said. "So there is no endgame, that's the infinity war that Hong Kong people are willing to engage in."
Hong Kong protesters, he added, want to "determine [their] own future, [their] way of living things" and "not being dominated by Beijing authorities".
"We will refuse Hong Kong turning into one country, one system," Wong said.
Watch the full interview on Raw Politics on Thursday night at 1800 CET