Watch: EU 'logical place' to fight global warming, says Greens' spitzenkandidat Bas Eickhout
Comments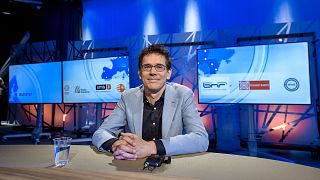 Implementing tough policies to fight climate change can only be done at the European level and not by individual member states, Bas Eickhout, one of the Greens' candidates to become the next European Commission president, said on Friday.
Eickhout, an MEP from the Netherlands and the European Greens' co-spitzenkandidat alongside Germany's Ska Keller, made the comments at the Democracy Alive festival.
Held on the Dutch island of Texel from April 11-13, the event aims to reinforce trust and optimism in the European project and increase voter turnout in the upcoming European Parliament elections.
You can watch Eickhout's appearance in the video player, below:
EU versus national governments
He told the audience that "if you go into politics because of ecological action, it's logical to do that at the European level" because "the real action happens at the European level".
He praised the union' institutions for "delivering the basis of what needs to be done" when national governments have previously failed.
Eickhout also argued that "one of the basic issues" Europe needs to address to combat dissatisfaction and the rise of populism is taxation.
Read more: 'Take care of Europe,' urges EU's Brexit negotiator Michel Barnier
"Taxation is still a national issue," he lamented.
Corporate taxation across Europe has gone down from an average of "35% to 20% over the last 20 years", he said.
"That is taking money away from governments" and prompting people to think "that Europe is not for them but for companies," he deplored.