State of the Union: 2 minutes to midnight
Comments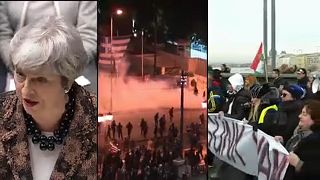 The doomsday clock is still at two minutes to midnight - the terrifying timepiece is stuck there since last year- as close as it's ever been to the collapse of civilisation since the 1950s.
"We are calling this the new abnormal...We appear to be normalizing a world in which the risk of nuclear warfare and climate change unchallenged are evermore present and are not being effectively dealt with," Robert Rosner, Chair of the Bulletin Science and Security Board and a Professor at the University of Chicago told reporters.
The scientists added that matters are being made worse by information warfare - and this week in Europe saw another war of words - this time Rome and Paris were at loggerheads. Italy's Vice premier blamed France for fueling migration flows by continuing to 'colonise' Africa, while France's Europe Minister said she wouldn't enter into a 'stupidity contest'
Meanwhile the Brexit saga dominated Davos , and Athens saw street protests over the end to the name dispute with the Former Yugoslav Republic of Macedonia.
Next week could see fortunes change, with Hungary taking the spotlight, we'll hear from the Hungarian Foreign minister later in the programme, but first the week in numbers.
The week in numbers
35,000 is the estimated number of students who cut class for a climate change protest in Brussels this week. Such demos have snowballed since Swedish teenager Greta Thunberg's solo protest outside parliament drew international attention - and this week she took her campaign to Davos.
10 is the number of candidates that the French Yellow Vest movement say they will field in the upcoming European Elections. It is the latest addition to the new kids on the EU bloc wanting to shake up Brussels institutions come May.
9 is the number of weeks until Brexit. British MPs are to vote on Tuesday on the prime minister's Plan B. This week uncertainty took form with companies announcing they are jumping ship, and UK patients stockpiling drugs in case of a No Deal.
Next week the European parliament will debate 'the situation in Hungary' -it is part of long-running tensions between Brussels and Budapest over its commitment to EU values.
Hungary
Next week the European parliament will debate 'the situation in Hungary'. It is part of long-running tensions between Brussels and Budapest over its commitment to EU values. The European Parliament has backed plans to freeze EU funds to countries violating rule of law - a move which targets Poland and Hungary. Earlier this week Sandor Zsiros sat down with the Hungarian Foreign Minister, Péter Szijjártó to discuss this. He also asked him how he sees the fortune of Hungary's richest man, Lőrinc Mészáros, a good friend of Viktor Orbán. As this revenues come mostly from European funds.
"These kind of blackmailings that these European funds will be take away and all this kind of stuff are basically matter of revenge against Hungary, against the Hungarian people. We understand very well that bureacrats in Brussels and mainstream media and mainstream politicians do not like the fact the Hungarian people voted 3 times Fidesz into government. And they are frustrated about that."
"We are absolutely not worried . There are treaties and rules in the EU which make it very clear how the methology of distributing the EU funds look like. And if somebody would like to change this methodology, must change regulations and treaties. Now changing the treaties is a very complicated procedure, which requires the unanimous decision of all member states: So Its obvious that such a change will not happen.
"I dont really care about the revenues of mr Mészáros, to be honest, I dont know from where, wether from the European Union or from otrher sources he gets his revenues or his companies get their revenues. I dont care about such kind of business issues. On the other hand you know I dont really understand why somebody should be excluded from public procurement procedures if they know politicians from Fidesz, or if they know politicians from the socialist or if they know politicians from other parties. "
"The system of the European Union is very much reminding me of Soviet Union"
Genius of the cinema for some people and for others supporter of controversial political ideas, Euronews correspondent Elena Cavallone met the Serbian director Emir Kusturica. He has been criticized for his positions antagainst the neo-liberal system and for his views about the European Union.
"The system of the European Union is very much reminding me of Soviet Union: you don't have people who are voted, you have people that are chosen to do what they have to do," explains Kusturica.
When challenged that Parliament is voted for by the people, and the Commission by the parliament he answers:
"But this is not the democratic tradition. Europe is an economic entity and not political and that's the problem."
Cavallone: "Do you think that the European Union is doomed to fail, like the Soviet Union?"
Kusturica: "No, it could fail similarly like Yugoslavia. Because I don't see...For example in the United States when something happens in Louisiana from Washington or New York they can help instantly with the budget reserve. But if something happens in Transylvania or somewhere else I don't think that the German leadership is sensitive to the issues of someone who considers not good worker or lazy or whatever."
Cavallone: "Do you blame the EU for raising differences?
Kusturica: "For not having political power. I am not blaming, that's what you could see: they have a power in Brussels but they don't have power in the outskirt of Europe. And they don't have the power in London: look at what thy did in London...they said NO. The Queen doesnt' want to be given orders from Brussels".
When asked about Russian meddling on Brexit referendum the director said that Moscow is not the problem and accused the US of destabilizing several parts of the world
Kusturica: "They accuse Russia of meddling all the time. So we are living in the last 50 or 40 years being instrumentalized, with overtrowings of regimes, and doing all over the world things that are just useful for them. The bombed us here, they changed Ukraine's face, they try to change Venezuela with all these NGOs movements and the finance this".
And while politics may appear a little bitter, we'll leave you this week with something a little sweet. The European Commission chief spokesperson quoting British pop group the Spice Girls when talking about the Brexit deadlock.
"We expect the United Kingdom to tell us what they want, what they really really want."