Tighter EU border controls does not deter refugees
Comments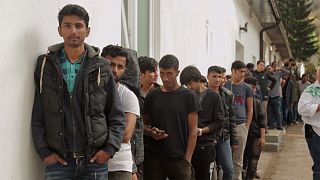 Many will remember the dramatic images of thousands of people who fled across the Western Balkans route in 2015. Most came from the Syrian civil war, hoping to find a better life in Europe. More than three years after Europe's biggest influx of migrants and refugees, Western Europe has tightened its border controls, but what does that mean for migrants?
Although the stream of refugees has now dropped, some are still making desperate journeys. As the winter closes in, the external border of the European Union is inching towards a humanitarian emergency. That's after more than 20,000 migrants have taken this route seeking safe refuge. While, some have arrived illegally in Europe – others have been unsuccessful and returned home. Outside of those two groups, 4,000 and 6,000 migrants are stranded in Bosnia and Herzegovina on the border of Croatia. No European state will accept them.
Bosnia's neighbour Croatia often returns unwanted migrants and refugees, frequently by force. That's according to statements made to Euronews reporter Hans von der Brelie in his "Insiders" report on the new West Balkans route. But how does the tightening of Border controls affect the flow of illegal migrants?
Insiders' executive producer and presenter Sophie Claudet spoke to Gerald Knaus ‐ the founding chairman of the European Stability Initiative (ESI) think tank. He is a migration expert and is often described as the architect of the 2015 migration deal between the European Union and Turkey. On the tightening of border controls, he had this to say.
"All the Balkan countries claim that they've closed their borders. Austria claims that it has closed its borders. But somehow this can't be right because in the end where do the Syrians, Iraqis, Iranians, Afghans, and Pakistanis, who come to Germany, where do they come from? They come somewhere, not noticed, without television pictures, with a lot of money being paid to smugglers but successfully."
Sophie Claudet: "What is your forecast regarding migration to Europe in the coming decades, taking into account that conflicts will probably continue, that poverty will probably continue as well, and taking into account, of course, climate change."
Gerald Knaus: "The trend of the last decades shows us that large numbers of arrivals are rare. We've seen them after the Syrian war in 2015 and we've also had 3 years of largescale arrivals from Libya to Italy, but the average number of people who cross the whole Mediterranean, in recent decades, per day, is less than 300. Now, these are numbers that Europe should be able to cope with and treat those who arrive humanely, access asylum claims fairly and fast, and also return those who do not need protection. But Europe is currently falling with low numbers of arrivals, on all of these tasks, so if there will be future crises, unpredictable wars, that we don't know about yet, the numbers could rise again, I fear, that in light of the current situation, the European Union would struggle again and would once again not be prepared."