Slaying the plastic pollution dragon
Comments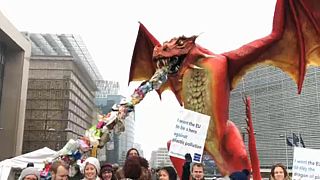 A 3 metre-tall dragon sculpture spewing plastic pollution gathered from beach cleanups has been erected in the EU institutions quarter of Brussels.
It is an effort from those working to make the EU aware of the plastic pollution problem.
Later next week, the European Commission, the European Parliament and the Council will gather to negotiate new laws to slash single-use plastics. Activists ask: Will national governments follow the Commission and the Parliament in their ambitious charge to slay the dragon, or will they bow to pressure from the plastic industry?