Romania justice reforms in EU firing line
Comments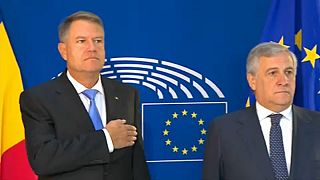 The latest country in the EU's firing line is Romania. Recent reforms in its justice system have European institutions concerned. It has also led to many protests over the past year.
The Council of Europe has slammed the changes saying they seriously weaken the effectiveness of its criminal justice system to fight corruption, violent crimes and organised crime.
Executive Secretary of the Venice Commission, Thomas Markert explains how the reforms soften the fight against corruption.
"Concerning abuse of office this is now punishable only if you abuse your office to gain money for yourself or members of your family but not if you want your friends to profit. So if you do something and your wife gains from it, you're punished, and if it's your mistress you're not punished."
Romania's president Klaus Ioannis was in Strasbourg Tuesday to give his vision of Europe's future, he said the fight against corruption was 'righteous'. MEPs took the opportunity to push Romania towards Europe, not away.
Guy Verhofstadt, Belgian Liberal MEP looked towards the upcoming European Parliament elections saying, "it will be in 2019 a fight of liberal democracy, against the tendency in a number countries, unfortunately mainly eastern European countries to go the way of illiberal autocracy . Romania, as it was the case in 1989, has to play an important role in winning this fight in 2019."
Carrot or stick? Commission President Jean-Claude Juncker chose the latter - offering membership of Europe's Schengen zone. He tweeted,
"I would like to see #Romania in #Schengen before the end of this @EU_Commission mandate. For that to happen, I call for a national consensus in Romania on upholding the #RuleOfLaw law and fighting corruption."
With Romania set to take on the EU presidency in January next year, Brussels is hoping to keep Bucharest on side.