EU slams Romania for 'reversing' progress against corruption
Comments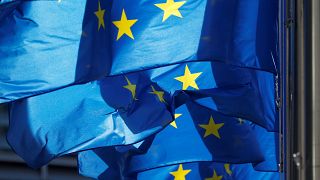 Copyright

REUTERS/Francois Lenoir/File Photo

-
The European Commission has accused Romania of backtracking on key reforms against corruption, just weeks before the country is scheduled to take on the European Union's rotating presidency.
In a report released on Tuesday, the European Commission warned that in the past decade "pressure on judicial independence in general and on the National Anti-Corruption Directorate in particular, and other steps undermining the fight against corruption have reversed or called into question the irreversibility of progress."
Romanian Prime Minister Viorica Dăncilă dismissed the report as "profoundly unfair" and suggested it was politically motivated.
What does the report say?
The report is the result of the Cooperation and Verification Mechanism set up when Romania and Bulgaria joined the European Union on January 1, 2017 to assess progress in the fields of judicial reform and corruption, which the Commission had flagged as concerns.
Presenting the report, Commission Vice President Frans Timmermans, praised Bulgaria for its progress, but described recent developments in Romania as "really, really saddening."
The Commission issued eight new recommendations, which included the immediate suspension of changes to justice laws and  procedures to appoint or dismiss prosecutors.
Timmermans also emphasised that the media should be able to work without pressure, arguing that "it is essential in any European democracy."
"We sadly have to conclude that Romania is now running in the other direction," he added.
Why it matters
The Commission's criticism is the latest in a series of condemnations issued against eastern member states.
The European Parliament voted to trigger Article 7 — also called the "nuclear option" as it can lead to sanctions — against Hungary in September after an EU report found the country's government posed a "systemic threat" to the bloc's fundamental principles.
It has also severely reprimanded Poland for a slate of judicial reforms, which it says weaken rule of law in the country.
But the criticism of Romania is particularly damning as it comes just weeks before the country assumes the EU's rotating six-month presidency, fuelling the debate as to whether it can take on the responsibility at a crucial time in the bloc's history — the UK is set to formally exit the EU in March.
The report was also accompanied on Tuesday by the EU Parliament overwhemingly backing a resolution saying it is "deeply concerned" about judicial reforms in Romania.
Adding to worries, Romanian President Klaus Iohannis said on Tuesday that his country is not ready to take over the EU presidency, which starts on January 1.
Iohannis, from the National Liberal Party, said there is "no chance" that Romania's government — led by the rival Social Democratic Party — can offer "good government...or proper involvement in European affairs."
It also followed the surprise resignation on Friday of EU affairs minister Victor Negrescu.
But Romanian Prime Minister Dancila dismissed the EU report as "profoundly unfair" and politically motivated.
Regarding the EU presidency, Dancila assured that "Romania is ready — logistically and from an organisational point of view."