Turkish fashion designer seeks escape in Brussels after attack, imprisonment
Comments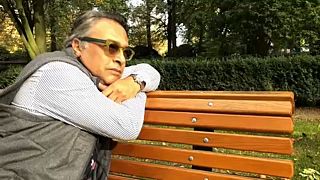 Turkish fashion designer Barbaros Sansal says he needs "a break" from his home country.
He made the decision to start a new life in Belgium after being attacked and imprisoned last year for posting a critical video on social media.
In the video, he hit out at people celebrating the New Year, saying: "While scores of journalists are in prison, while children are sexually harassed, raped, while corruption and bribes are everywhere, while extremists are distributing shit to you in the streets, are you still celebrating the New Year? I am not."
"Carry on your celebration in disgrace, misery and dirt. Drown in your shit, Turkey," he added.
Authorities in the Turkish Cypriot-controlled northern Cyprus deported Şansal in January 2017 and as he descended the steps of the passenger plane at Istanbul's main airport, he was set upon by a waiting mob, who punched and kicked him, shouting "traitor".
Police then arrested him for "inciting the public to hatred or hostility".
After spending 56 days in an isolation cell, Sansal was released from prison.
However, the 61-year-old still faces the charges and another count of "insulting the Turkish nation" for which he could be jailed for up to three years.
He is just one of many entrepreneurs and intellectuals who has opted to leave the country in the wake of the 2016 failed coup attempt, which they say led to a crackdown on critical voices.
Like others, Sansal, who has not sought asylum, divides opinion among the Turkish community in Brussels.
One man described him to Euronews as a traitor of the nation, while another said his treatment was an effort by the Turkish government to send a message to others to stop dissent.
But while he is not welcomed by everyone in Belgium, the fashion designer says he has no plans to return to Turkey.
"I need a break from my country like I did in 1980 for nine years. I've got to stay away."
________________________________________
Update: A previous version of this story referred to the "Turkish Republic of Northern Cyprus". It has been updated to "Turkish Cypriot-controlled northern Cyprus".