EU breathes sign of relief over transatlantic trade row
Comments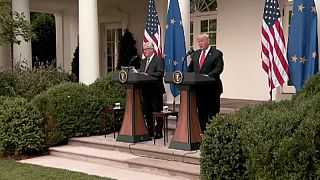 Europe's breathing a sigh of relief after Donald Trump and the European Commission President agreed to tackle their transatlantic trade row.
But France is cautioning that any deal must be limited and benefit both sides.
Neither EU officials nor the White House offered many details about the agreement. In large part, it appears to be symbolic.
"It's really the first time that this administration and the president have said that trade can be win-win, at least he said that the trade between the US and the EU can be a win-win situation," said Peter Rashish, from Johns Hopkins University in Washington.
"Previously, there has been tendency to see trade more of a win-lose and to see the US more of a victim. So that's very positive."
After the Washington talks, Trump highlighted benefits for US farmers, saying the EU was going to start buying a lot of soybeans.
But commentators say that's already been happening since prices plunged in June. China has largely stopped buying them in reaction to Trump's tariffs targeted at the country.
France's Finance Minister welcomed the discussions with Washington but said he doesn't want to enter into a wide-ranging negotiation.
With French framers forming a strong lobby, he added that agriculture must remain outside.
And, even if car import tariffs aren't completely off the table, the EU Commission President Jean Claude Juncker has played his part extremely well, say some.
Former WTO Director-General Pascal Lamy told Euronews: "He (Juncker) did not come with EU concessions, but he came with the result of the discussions with the Chinese and the EU is and that's the way to understand it, it is siding with US to put pressure on China and siding with China to put pressure on the US."
But given Trump's unpredictability, we're unlikely to have seen the back of this trade saga just yet.