Families launch social media appeals for missing loved ones in Greece | The Cube
Comments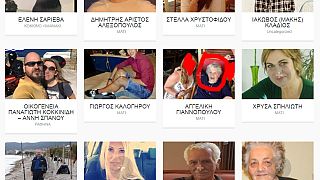 As the number of dead in Greece's wildfires continues to rise, the friends and relatives of missing loved ones are doing all they can to appeal for information.
In the past 24 hours, a website featuring the faces of some of those believed to be missing has appeared online. The website, which was started by a Greek cybersecurity company, is an unofficial list of missing people in the fires, in addition to the official Greek Fire Brigade's list.
The company encouraged social media users to send in details and to also use the hashtags #MissingPeople and others related to the fire when posting about missing loved ones on social media. The company then adds the details from these posts to its open database.
Of the people currently listed as missing on the website is Panos Kokkinidis and his wife, Anni. His last public activity on social media was on Monday evening, when he broadcast a live video to Facebook showing flames in the distance. An hour later, in his final post, he said a "miracle" was needed.
Euronews has not yet confirmed the status of those listed on the website, but will continue to monitor developments.
In some social media posts showing people trying to escape the fire in Nea Makri, subjects of one photo were recognised as a commenter's mother and sister.
"Mum and my sister," the woman wrote in the comments of the photograph, later confirming to other worried users that, "They are fine. Shocked, but well. They are the ones on the edge of the photograph."
Facebook appeals
Other social media appeals have been less successful so far, but have nevertheless gained widespread messages of support.
Katerina Chamilothori posted a desperate appeal for her brother, Panagiotis, whom, she said, had been missing since Monday. While there does not appear to be any updates on her brother's whereabouts, the post has been shared almost 50,000 times at the time of writing, and it has received dozens of supportive messages.
Similarly, the following Facebook user posted an appeal to find several missing members of her family. At the time of writing, the post has been shared almost 30,000 times and has received over a thousand comments, including messages of support and possible information on the ongoing search.
These examples are just some of the many social media appeals currently underway by family members of missing loved ones on Facebook.
Spread of information
Aside from family appeals, social media has also played a role in locals spreading information on where to find and offer help.
Athens-based journalist Thanasis Nikolaou posted the following photo to Facebook, showing an enormous queue of people waiting to donate blood.
Other posts consisted of lists with details of supermarkets and restaurants opening their doors to offer free food and water, hotels offering free accommodation, and animal care, etc.