'We can't afford to lose time' - EU's Brexit warning over Irish border
Comments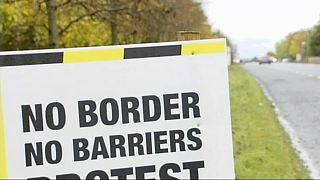 Copyright

REUTERS/Francois Walschaerts/File Photo
"We can't afford to lose time" - the fresh warning from the EU to the UK over the Irish border issue, plaguing Brexit negotiations. It says without an agreement, there'll be no deal and no transition.
It comes after British Prime Minister Theresa May called on Friday for the EU to "evolve" its position and to prevent a hard frontier in Northern Ireland.
The EU's chief Brexit negotiator, Michel Barnier, says there has to be a backstop.
"Let me simply recall the commitment taken by Prime Minister Theresa May to have a backstop in her letter to President Tusk in March and the respect of this commitment is essential," he told reporters in Brussels.
"We are not asking for a border between Northern Ireland and the rest of the UK, but we need these checks on goods because the UK wants to leave the single market. We cannot afford to lose time on this issue."
Barnier's words came after briefing ministers in Brussels - and his first talks with the UK's new Brexit Secretary Dominic Raab, which he described as "very useful and cordial."
He also said the UK's Brexit White Paper raises questions, including over goods and services.
Barnier added: "It is also our responsibility to be prepared for all scenarios, including a no deal. As the European Council said, we have to step up preparations at all levels for all scenarios."
With the clock ticking, and so many issues yet to resolve, the final shape of Brexit remains unclear.. A cushion to ease the economic thump still far from certain.
_You can re-watch Barnier's press conference in full here: _