EU tells members to step up efforts to prepare for Brexit 'disruption'
Comments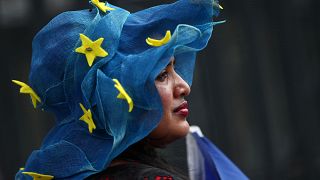 The European Commission has called on member countries to step up preparations for a 'no deal' Brexit.
It wouldn't comment on what was the most likely scenario, but it did say that whatever happens, there's set to be disruption for all.
"In terms of whether there is a likelihood that there will be no deal, I mean, I think what is very clear in today's communication, we want to prepared for the two outcomes," said Commission spokeswoman Mina Andreeva. 
"We're working very hard for having a withdrawal agreement with the United Kingdom and of course we need to be prepared for all eventualities - and this is what leaders have also called for."
The UK's new Brexit Secretary is holding his first talks with the EU's chief negotiator in Brussels. Dominic Raab took over from David Davis, after he quit over the prime minister's post-divorce trade plans.
Before heading to the Irish border - another core Brexit issue - Theresa May on Wednesday reiterated her position on a no-deal situation.
"You asked me about the fact that I have said no deal is better than a bad deal. I think that is, I remain by that, I think that is, that is right," she told a parliament committee.
Last month, tens of thousands took to the streets of London to demand a final vote on the details of any deal.
Westminster and Brussels have reached a transition agreement, but it's yet to be ratified.
It all adds up to continuing uncertainty on both sides of the English Channel.