Migration: EU and Austria 'on same page'
Comments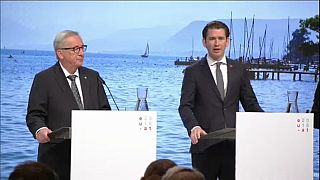 The European Commission President's been in Vienna, as Austria takes up the rotating EU presidency.
Jean-Claude Juncker met with Chancellor Sebastian Kurz, who's making the migration issue a top priority.
Kurz told the media: "During our presidency we will try - together with all the other member states and the Commission - to bring action. The change, which is on our minds must be put into practice on the ground, especially when it comes to the protection of our external borders."
For Juncker, solidarity and protection of the external borders can go hand in hand. But he recognises there's still work to do.
"At the moment, we have 1340 officers, customs officers who are working at our external borders," said Juncker, "That is not something you could call a well though, complex front of rejection."
Euronews' Stefan Grobe reported from Vienna: "The EU Commission and the Austrian government appear to be on the same page with regard to migration. Jean-Claude Juncker announced that he will present in September a coherent plan to protect the EU external borders. 
"Now in this plan there will be a massive increase of funds for Frontex, the European border and coastguard agency. Frontex will give up its sleepy existence and become a real police force"