Dima Kadri, Syrian refugee, opens up about life in the Netherlands
Comments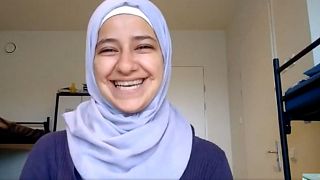 A few weeks ago, we were in Utrecht in the Netherlands, to work on a report on Plan Einstein, an integration programme for refugees and asylum seekers, which facilitates them living in Overvecht with local people.
Close to the asylum centre, Plan Einstein is a place where refugees, asylum seekers and local people can learn languages, take entrepreneurship courses, or have coaching in order to find a job, or as a way to rebuild their future.
The project is supported by the European Cohesion Policy and is one of six that we have been following in Smart Regions.
When we visited Plan Einstein, we met a young Syrian Refugee who benefits from the programme. Her name is Dima Kadri, and she is 21 years old. This is our video conference conversation:
What did you think about the episode, how did you feel?
I felt happy and proud of myself. Everyone here at Plan Einstein was telling me "you're famous now!"
What's the story behind your arrival at Plan Einstein?
At the beginning of 2015, my brother came to Holland in a boat from Turkey to Greece. It was a very dangerous journey for him. We were so happy when he finally reached the Netherlands. After that, he tried to make it happen for the rest of us. We were in Egypt, and it took around two years to be able to come here.
I was lucky because I came on a plane, I didn't have to suffer what many have had to endure. I was so happy when I arrived, and of course, also happy to see my family again.
I arrived in the Netherlands in August 2017, and Overvecht was my very first asylum centre. The first weeks were a little bit weird for me, I stayed in my room all the time and was not communicating much. I was scared, but then I met people from Plan Einstein and they introduced me to more people, the courses that they had, the workshops, the coaching programmes: everything. They even told me that I could come to Plan Einstein just to hang out with my friends!
I was and I am very lucky because I have this place close to the asylum centre where I live now, and I don't just get to spend time there, but also to build my future here.
Tell me about the programmes and courses available at Plan Einstein
There are many programmes, the first one is coaching. So I met a coach and told him what I really wanted: to study law. I spoke to him and together we looked at all my opportunities here. Then we evaluated the universities, the requirements. We did all this together, and he helped me a lot to reach my current position: I've been accepted to university!
We have English courses, and workshops about the work environment in the Netherlands. The latter was very useful coming from a different culture. In the workshops, we learn things like how to look for a job, how to build a network, basic stuff that we should all be familiar with. We also take guidance on how to create a business, and how to make an idea reality.
We also have a 'languages cafe' every week, and there are some volunteers and students from the neighbourhood who want to teach newcomers the Dutch language. The students that volunteer are about my age. So we have the same topics to talk about, and also sometimes I take their advice about the university, and on the life here.
What's the best thing about Plan Einstein?
The greatest thing about Plan Einstein is that it is not only for refugees or asylum seekers but also for people from the neighbourhood. It's great because it allows us to get to know the locals, and for them to get to know us. We attend the workshops and courses together, and we've become friends. The initiative is great for breaking down the barriers between the people from the neighbourhood and the asylum-seekers and refugees.
A Facebook follower, Μιχάλης Τιάκας asks: Do you recommend the Netherlands for international students?
Yes! I think the Netherlands is a great country for international students because everyone speaks English, that is the first thing. When I first came here I only spoke English and I had no problem at all. Also, there are a lot of universities with English programmes. For example, I will study international law in English. They told me the class will have 40 nationalities! Also, the education here is not as expensive as in other countries. So yes, I think is great for international students.
Do you speak Dutch?
Yes, I speak a little, I can understand it perfectly, but speaking needs more time. Especially because I always speak English and don't practice Dutch that much.
Another Facebook follower asks: have you had any problems with your religion?
Well to be honest, when I first got here I was scared because I thought "I am a Muslim woman wearing hijab" but when I arrived I realised that people in the Netherlands respect other people. They respect your religion, your ideas, your thoughts: you are free to be who you are. They respect what you want. If you want to be Muslim, be Muslim, if you want to wear hijab, do that!
I haven't had any experience here in the past eight months of someone saying something about my religion. We even have a mosque, and now we are in Ramadan, so we go to the mosque to pray. A lot of people do it: I don't have any problems with that.
How do you feel in the asylum centre?
There are many refugees, so sometimes they are placed in villages, or in places far from the city. But the centre where I live is the best: it's a building in the middle of the neighbourhood. We don't feel isolated or like strangers, so we can easily communicate with our neighbours.
There's also a lot of green spaces and there's a lot of nationalities. I like this place a lot.
Tell us about the teachers
All the teachers are very kind people, and friendly. They know that sometimes is hard for us because of what's going on in our country. But they are always there, and they push us to do our very best. They know we have a lot potential and opportunities here, and they want to help us to find our way.
How do you feel about the project in general?
These kind of projects are so good for both sides, for the newcomers and also for the people in the country. It makes communication easier. We are learning together, spending time together, having fun together, so everything becomes much easier for both sides.
I think it could be difficult for refugees to live without this kind of project: it would be hard to build any network and meet new people. This kind of initiative really helps us to integrate into the country.
This Q&A has been adapted from an interview and edited for clarity.