Armenian teens facing deportation from Netherlands are 'in hiding'
Comments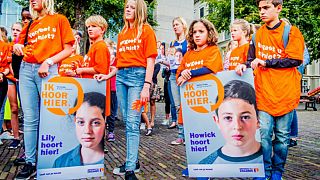 Copyright

Defence for Children
Two Armenian teens, who have been living in the Netherlands for the past decade, have gone into hiding to avoid deportation, their mother said on Monday.
Howick, 13, and Lili, 12, arrived in the Netherlands with their mother in 2008.
They were meant to be deported last August after their mother's asylum application was rejected but as they were absent from home when authorities came to pick the family up for deportation, only the mother was deported.
Since then, friends, classmates and aid organisations have rallied around them, calling on the government to desist. After a year of legal wrangling, the Council of State ultimately ruled against them and set the date for their expulsion for September 8.
'Safe place'
Their mother, 37-year-old Armina Hambartsjumian, wrote in a letter published on Monday in the Algemeen Dagblad newspaper that her two children are now "in a safe place" to once again avoid deportation.
"They have had a very tough year. Last week I was told by Professor Erik Schreder that my children suffer from post-traumatic stress disorder, that they are sick and cannot come to Armenia because their chance of recovery is zero here.
"They are now away from fear and panic. They are very relieved," she wrote, renewing her call for them to be allowed to stay in the Netherlands.
Before going into hiding, the children had written their own letter to the authorities — published last week in the same newspaper.
"We are afraid and we are angry," they wrote to Prime Minister Mark Rutte, Justice Minister Mark Harbers, King Willem Alexander, Queen Maxima and "everyone who reads this."
They stated that their mother couldn't take care of them — due to an unspecified disability — and that they were worried they'd be sent to an orphanage.
"We are terrified because we do not know where we will end up," Howick and Lili said.
'Shocking and intolerable'
Last week, a dozen aid organisations called on the justice secretary to use his discretion and grant the two teens a residence permit. They described the order to deport Lili and Howick as "shocking and intolerable."
According to children rights group Defence for Children, Lili and Howick were born in Russia, have never visited Armenia and do not speak the language.
A study the group conducted with the University of Groningen said "the living conditions of disabled families in Armenia are mediocre."
Children who have been expulsed to Armenia after having lived more than five years in the Netherlands, "are left to themselves and live in poverty," Defence for Children said.
"All surveyed children suffered from psychological trauma" as well as from a linguistic and cultural deficit, they added.
The group has called for people to rally on Thursday to protest the expulsion. It also plans to hand authorities a petition signed by 25,000 people.