EU Agriculture proposals a 'greenwash'
Comments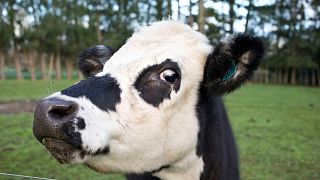 Copyright

REUTERS/Nigel Marple/File photo
EU agriculture ministers flocked to an informal meeting in Sofia earlier this week where they talked about modernising and simplifying the Common Agricultural Policy (CAP). But their proposals have left a sour taste in some people's mouths.
Denis Ducarme, the Belgian Minister for Agriculture explained:
"This is a huge effort that is being demanded of a number of countries and the fear we have is obviously seeing agriculture continue to be a form of adjustment variable of the European budget and that is, of course, hard to accept".
Meanwhile, Greenpeace's Marco Contiero believes budget cuts and giving too much leeway to member states would spell disaster for the environment and human health.
Contiero told Euronews:
"The European Commission has basically abandoned its responsibility to protect citizens and the environment of the EU, because it gave member states an enormous room for manoeuvre without setting clear rules and clear boundaries that would prevent member states from bashing the environment and even causing problems for human health.
Farmers and their livestock alike could continue to benefit enormously from technological advancements in the field of 'smart farming'. Part of the Common Agricultural Policy's aim is to ensure that technology like robotics and data analytics tools reap rewards, particularly for small and medium-sized businesses.
Euronews visited La Cense du Mayeur, a family farm in Belgium to find out how some farmers' lives have been transformed by tech. The farm-owners Cindy Rabaey and her husband have 220 cows for milk production.
After the milk crisis in 2009 in which producers protested by pouring thousand of litres of milk into the fields, Cindy and her husband thought it was time to diversify. They opened a local produce shop. Following its success the couple decided to save time by robotizing their milking parlours.
Robotization allows them to spend more time with the cows and to take better care of them. They are alerted earlier in cases of illness (or if a cow is in heat) thanks to the data collected. With robots there are now three milkings per day for cows compared to two before robotization. All this time saved benefits the animals and the couple's family life. But Cindy insists robotization does not mean industrialization. The cows remain free in the farm. The robot also evaluates when a cow comes to be milked too often and automatically disables the machine.
Cindy Rabaey explained:
"Robotization is not industrialization it's nothing like it, on the contrary, the animals are much more at ease, they live at their own pace, they go out when they want, they come back when they want, they go to the robot when they want to, so it's really ... there's no stress in the barn and it really shows right away."