Colombia: irreversible peace?
Comments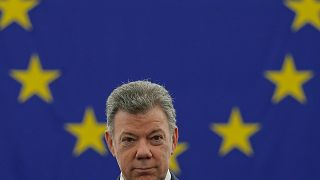 -
Copyright

REUTERS/Vincent Kessler
Ana Làzaro Bosch - Euronews
Juan Manuel Santos, president of Colombia, you are about to pass the relay. And undoubtedly one of the legacies of your presidency will be the peace agreement with the FARC do you think it is an irreversible process?
Juan Manuel Santos - Colombian President
No one wants to return to the horror of war. But in addition to that, the Constitutional Court issued a ruling which stated that during the next three governments, no president and no parliament can issue decrees or pass laws that go against compliance with the agreements.
Euronews
But very precisely, Colombia is going to celebrate the second round of the elections and one of the candidates, the conservative Iván Duque, says he wants to modify that agreement. Do you think that this could put the whole process in danger?
Juan Manuel Santos
He and his political party started off saying they wanted to destroy the agreement completely but they have been changing their position. Now they want to make some small changes. Which changes might those be? If it is to improve the agreement, they are welcome to; but if it is to change it, they won't be able to.
Euronews
The other candidate is from the left, Gustavo Petro, and some people are saying that Colombia could follow Chavismo's path. Is that possible?
Juan Manuel Santos
That scare-mongering idea started to circulate a long time ago. They even said that I was trying to put the country under the yoke of what they called Castro-Chavism. That is a threat that many people wanted to push out there to instill fear. All this with a view to obtaining electoral results.
Euronews
I would like to ask you what price had to be paid for this peace agreement? Because on the one hand it gained you the Nobel Peace Prize, but on the other it also gained you a lot of internal criticism; sometimes from the victims.
Juan Manuel Santos
Not so much from the victims. The victims have been very supportive. This was a vital lesson; they taught me that the victims are the most generous because they do not want more Colombians to suffer what they suffered... The criticism is normal because in a process of this kind one has to make a decision: where do you draw the line between justice and peace? And there will always be one side that wants more justice and another that wants more peace. There will always be criticism. The important thing is that the process continues and that the process is irreversible.
Euronews
I would like to talk about the relations between Colombia and Venezuela. At the moment there are a million Venezuelans who have fled to Colombia, I would like to know how this immense flow is handled...
Juan Manuel Santos
With the Venezuelans, we have opened our hearts and our arms because we have to be supportive. But with the regime that is producing that humanitarian crisis, the worse that Venezuela has suffered in its history, we are implacable.
Euronews
And another pending issue in Colombia is the eradication of cocoa crops. You have worked in this sense. What do you think your successor would have to do?
Juan Manuel Santos
We have been fighting coca crops for many years... 30 years, with fumigation, with forced eradication, with all systems. But while these peasant families have no alternative, they return to coca because if not: what do they live on? Now with the peace process, the state can reach areas that we could not reach before. If we take advantage of that, and we are, and if we push farmers to voluntarily replace one culture with another, and families say:  I'll eradicate coca and sow cocoa, or coffee or corn, then we will find a structural solution.
Euronews
Juan Manuel Santos, president of Colombia, thank you very much for the time you have dedicated to our audience.