Syria conflict: 'Bigger role' for EU?
Comments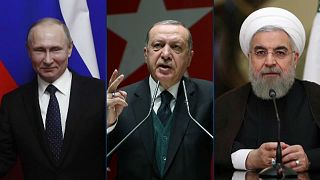 With the EU trying to resuscitate stalled UN peace talks for Syria, could a crunch meeting in Ankara on Wednesday help pave the way to a solution?
The leaders of Turkey - an opponent of President Bashar al-Assad - and Iran and Russia - both supporters - will discuss a new constitution and boosting security in so-called "de-escalation" zones. 
"(The) EU as a whole has so far not been a very effective diplomatic player," Sinan Ulgen, from Carnegie Europe, told Euronews.
"Now, this can change in the future as I said, as the requirements will also change, but for that to happen there needs to be a much more decisive push towards creating the conditions for a political settlement. Once that is obtained, the EU can certainly have a bigger role to play in the future of this conflict."
The EU depends on Turkey, a NATO ally, for support in security. So, what comes out of the meeting could be crucial.
An international conference on Syria's happening in Brussels later this month, to show support for the ailing peace process and to seek aid pledges.