Iran, Turkey and Russia meet for Syria summit
Comments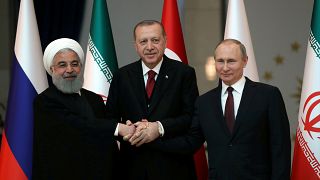 Iran, Turkey and Russia have agreed to work together to accelerate efforts to stabilise war-torn Syria.
...everyone must join in the common work to restore the economy and insfrastructure of Syria.

Russian President
The three leaders - Hassan Rouhani of Iran, Recep Tayyip Erdogan of Turkey and Vladimir Putin of Russia - met for high-level discussions in the Turkish capital, Ankara, on Wednesday.
Their influence over Syria and diplomatically isolating the United States were included on the agenda.
US President Donald Trump said he wanted to withdraw troops from the country, but his advisers have told him not to because it could risk a resurgence of the so-called Islamic State.
"Maintaining Syria's territorial integrity depends on preserving equal distance from all terrorist organisations," President  Tayyip Erdogan said. "It's very important that all terrorist organisations that are posing threats not only to Syria and Turkey but to all neighbouring countries, and even the whole region are excluded without exception."
The leaders also agreed to cooperate on reconstruction and aid.
Russia and Turkey plan to build a hospital in Syria's Tel Abyad to treat those escaping from eastern Ghouta.
"Everybody talks that it is necessary to participate in humanitarian aid but very few do it apart from Turkey, Iran and Russia," President Putin said. "We see small deliveries from the UN but it is very insufficient and what is sure, everyone must join in the common work to restore the economy and infrastructure of Syria."
The three countries are working as one, despite backing opposing sides in the Syrian war.
Russia and Iran support the Syrian President Bashar al-Assad, while Turkey is behind the anti-Assad insurgents.