I will carry on and I'll be soon in North Korea - MEPs 'secret' diplomacy with Koreas
Comments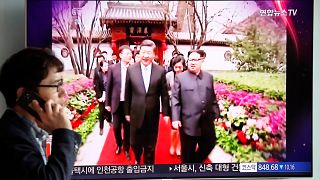 -
Copyright

REUTERS/Kim Hong-Ji
A European Parliament delegation has revealed that it's been holding secret talks with North Korea for the past three years to try to persuade Pyongyang to negotiate an end to its nuclear programme.
The group's leader Nirj Deva told euronews that they've held over 15 meetings in three years and that there is an appetite for peace in North Korea.
"It's the longest armistice of the human history, 64 years, and do you know North Korea has been asking for a peace treaty for this 64 years and they haven't been given it or no one wants to sit down with them to talk about peace treaty."
The MEP said he and his colleagues on the European Parliament Delegation for Relations with the Korean Peninsula had been "relentlessly advocating the case for dialogue without preconditions" to end the increasingly tense nuclear standoff the north and south.
"I will carry on and I'll be soon in North Korea.... What we can do is to be a facilitator, use our experience and knowledge of this place (European Parliament) which a place dedicated to peace and never again war, and use that concept of a compromise, this a temple to compromise and no other place in the world."