'A war scene' - remembering Brussels terror attacks two years on
Comments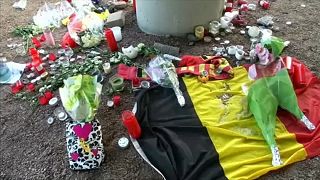 Commemoration events will be held on Thursday to mark the second anniversary of the Brussels terror attacks, which killed 32 people and left hundreds injured.
The bombings, which hit Zaventem airport and Maelbeek metro station, were claimed by the so-called Islamic State. 
'A war scene'
Airport IT worker Philippe Vandenberghe acted as a first responder, helping the injured, when the explosions ripped through the departure hall. 
"This was a war scene. I saw the terrorist, he was completely burned, I saw the centre of the explosion," he recalled to Euronews, "As I was focused on the act that I have to make to support people, I was just focused on that and I forgot the horror of the scene."
Philippe saved lives that day, but one woman died in his arms. 
"I know that it was impossible to save her life. I tried to do my best, but she has no more blood so... That was terrible," he said.
Euronews' Damon Embling reported from outside Brussels airport: "For those affected by the attacks here at Brussels airport, and at the metro station, the pain is still raw. But that pain is also mixed with anger and frustration. Two years on, the Belgian authorities face continued criticism that they're failing to recognise the victims."
We feel 'abandoned'
Myriam Gueuning, injured in the airport attack, is campaigning for that recognition through the V-Europe association. 
"You just feel you are abandoned and I think if you want to start living again, you need to be recognised in your victim position," she told Euronews. 
"We represent like 200 victims in our association and, believe me, we will get it."
The Belgian justice minister admitted earlier this month that more could have been done, adding lessons are being learned.