'Ireland first' - EU's Tusk fires Brexit warning shot
Comments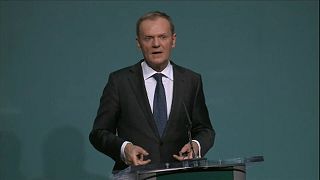 The EU's warning Brexit Britain that divorce talks risk stalling, if it doesn't come up with a realistic solution for the Irish border issue.
Speaking in Dublin, European Council President Donald Tusk said it's difficult to imagine any substantial progress - if a proposal isn't put forward to avoid a hard border.
"If in London someone assumes that the Brexit negotiations will deal with other issues first before moving to the Irish issues my response would be: Ireland first," said Tusk.
Britain's rejected an EU idea of keeping Northern Ireland inside the customs union.
Publishing draft guidelines for the UK's future relationship earlier this week, Tusk delivered a gloomy message saying that a free trade deal would make economic relations more complicated and costly.
"In the FTA we can offer trade in goods with the aim of covering all sectors subject to zero tariffs and no quantitative restrictions. But services are not about tariffs," he said in Dublin.
"Services are about common rules, common supervision and common enforcement to ensure a level playing field."
The EU wants a close partnership with Britain, but it's clear its stance on trade contrasts with that of Theresa May, who says she wants it to be as "frictionless as possible."