Italy election: taking the pulse in Brussels
Comments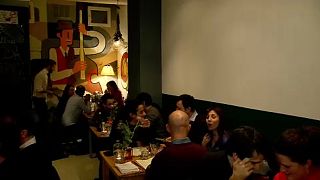 Sunday's election in Italy is being watched well beyond its borders, including in Brussels.
At one Italian bar and restaurant in the city, the poll has got diners talking.
Giorgia Giordano runs Ci Piace, opening the business after quitting a job at a consulting firm. 
It's a popular meeting point for the international community.
"I like coming back home, going on vacation, visiting my family but I'm fine here," Giordano told Euronews.
"And I think that opening a business in Italy now is even more difficult than here in Belgium."
Disillusion
High unemployment and a heavy public debt are holding back growth in Italy.
It's left young people feeling frustrated, including a radiologist in Brussels. 
"Having a future in Italy at the moment is impossible," explained Riccardo.
"Many colleagues of mine tell me about their experiences and their continuous battles: sometimes they sacrifice entire days to have nothing in the end, sometimes they aren't even paid. There are unbelievable stories out there."
Beyond the economic worries, a rise of populism in Italy is also food for conversation.
"It makes me sad that a country that I know for being so welcoming and open is also grappling with these problems," said an Irish woman in Brussels. 
On the sidelines?
With new electoral laws, there's a risk Italy's election could result in a fragmented parliament, bringing tough talks.
Euronews' Elena Cavallone reported from Brussels: "Uncertainty is a reality that Italians have been used to for years, but at time when Europe is preparing to implement major reforms, political instability risks leaving Italy on the sidelines of discussions about the future."