Andrés Ingi Jónsson: fighting gender bias within Parliament
Comments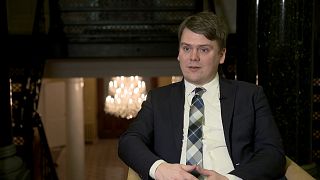 Andrés Ingi Jónsson is a MP for the green-left party at the Icelandic Parliament, or Althingi. He has launched a discussion group for male parliamentarians, aimed at sensitizing them to gender related issues, and fight against discrimination in politics. He tells euronews reporter Valérie Gauriat that it is a prerequisite for Parliament to have a clean sheet, if it wants to meet the expectations of the Icelandic society.
We want a society where everyone can reach their full potential. And gender equality is one of its main factors.
Valérie Gauriat:
"This is the oldest Parliament in the world but not everyone here believes that it's the most women friendly. Let's go and see"
Andrés Ingi Jónsson:
"We've had a fair share of women, over 40 percent for a number of years. But we've had a backlash at the last elections, and we're now under 40 percent of women. So we always have to keep vigilant".
My party has a feminist agenda so we've been working on increasing female representation in Parliament for a long time. but what we're working on now is more regarding the culture within parliament, making sure there's less gender bias within the groups of the members of parliament
Valérie Gauriat:
Because there is a lot of gender bias?
Andrés Ingi Jónsson:
"Within politics there are examples of sexual violence and harassment. But there have also been stories about demeaning behaviour and attitudes where gender is used as a way to put your political opponent down. And this is something we have to address as a group in parliament and make sure than when were debating things, we do it on the merits of the case were debating not on issues like gender."
Valérie Gauriat:
"Do you have any examples? We've seen in the Icelandic Parliament for instance the former speaker breast feeding her baby… It was possible. So is it just…fake?"
Andrés Ingi Jónsson:
"It just goes to show that you can be very feminist and at the same time have the same problems as anyone else… We also had stories coming out of female members of parliament experiencing very intrusive glances from ministers when they're walking through the chambers of parliament. They felt uncomfortable, this is unsettling for you when you are going to the podium to debate issues. So at the same time that we're having these expressions of feminism within the chamber we have these examples of old fashioned patriotic society."
Valérie Gauriat:
"You've decided to create a male discussion group on gender equality issues in parliament. Why is gender equality such an important issue to you? Some people might say that there are much more important issues to deal with in politics…"
Andrés Ingi Jónsson:
"Well I think it's one of these things where you have to walk the walk if you want to talk the talk. So if we want to build a society where gender discrimination is something we're fighting against, we have to start within our own building so to say. What we did when we sat down together right after the last elections, in a group of all male members of parliament, was to talk about how we can be part of the solution within parliament.
I think this really shows the power of the MeToo revolution and all of the other things that have been happening in the past few years, to advance womens' rights in Iceland.
We want a society where everyone can reach their full potential. And gender equality is one of its main factors. And if we want society in general to be this way then the parliament has to as well."