German aide lands top job at EU Commission
Comments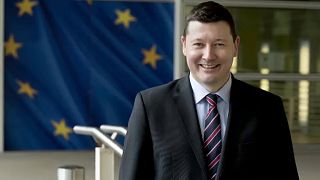 It is seen as surprising and controversial. German Martin Selymayr has landed the highest civil servant job at the European Commission, set to take up the reigns of Secretary-General.
He has been the top aide of Commission President Jean-Claude Juncker and is regarded as one of the most powerful players in Brussels.
But sources say Selymar has enemies and has been unpopular among officials.
Juncker has been defending the decision to appoint the German lawyer.
'No nationalities'
"I'm fed up with always having to discuss flag issues, we are at the European Commission and there are no nationalities, there are national sensibilities to which I bow respectfully," he told reporters.
The shuffle at the top will also see Clara Martinez Alberola, from Spain, head up the Cabinet, moving up from her deputy role.
It all comes as Juncker prepares to depart in November next year.