Brexit: Farage meets EU negotiator to talk trade and immigration
Comments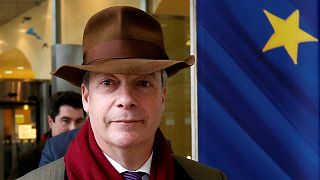 Brexit campaigner, and former UKIP leader, Nigel Farage has been talking trade and immigration with EU chief negotiatior Michel Barnier in Brussels.
He came to the de-facto European capital, he said, to deliver the word of more than 17 million leave voters.
"Whatever the government has done here, in the Brexit negotiations, I've not heard a dickie bird about immigration, anything about border controls," he said, as he arrived for the meeting.
"It would appear that the most optimistic estimate is that it will be at least six years from voting to leave that we do anything about the open door that we have to the rest of the European Union."
Farage came to Brussels armed with questions he got on social media. But the response was mixed, with some highly critical of him – and how much weight in holds in the EU.
The European Commission hasn't said much about the meeting, but stressed the door was open.
"Michel Barnier has, as president Juncker did in the past, has always been open to the possibility of having meetings with members of the European Parliament or stakeholders, who are interested in the process," said Margaritis Schinas, Chief Spokesperson for the European Commission.
As well immigration, Farage came to Brussels to press Barnier over Britain's future trading relationship. But came away, he said, with little reassurance.
"When it comes to the prospects of a future trade deal as part of phase 2 of all of this, whilst he's (Barnier) quite happy to do something on goods, well he would wouldn't he, Europe sells us more than we sell them. When it comes to services and financial services, there's a deep reluctance," Farage told Euronews.
Reporting from Brussels, Euronews' Damon Embling said: "How much Nigel Farage has actually achieved in a half an hour meeting here in Brussels remains to be seen. What is certain is that he remains a divisive figure, with Brexit won on such a tight margin in the UK – and with all the twists and turns we've seen in the negotiations to date. And that turbulence is set to continue, with the next round of talks – on trade – due to happen over the coming months."