'Brexit is winning everywhere': Nigel Farage full interview
Comments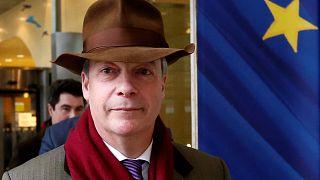 Brexit campaigner, and former UKIP leader, Nigel Farage has been talking trade and immigration with EU chief negotiatior Michel Barnier in Brussels.
He came to the de-facto European capital, he said, to deliver the word of more than 17 million people in the UK who voted to leave the EU.
Play the video for the full interview he gave euronews afterwards. Here are some excerpts:
On what came out of the meeting
"What came out of the meeting is that this is an unfailingly polite and well-mannered man, who is a total believer in the European project, it's like a religion to him. I said to him: 'I think you're representing Brussels, and not the member states and the companies and workers within it' – he believes they're one and the same thing. What really came out of it is the fact that number 1) the British government has not been representing leavers' views on immigration and we've made no progress whatsoever on that subject, and number 2) when it comes to the prospects of a future trade deal as part of phase two of all of this, whilst he's quite happy to do something on goods – well he would be, wouldn't he, Europe sells us more than we sell them – when it comes to services and financial services, there is a deep reluctance. And I think that in phase one the British government gave a lot – a lot of money, a big role for the European Court of Justice, all sorts of things that we conceded in phase one, just to get to phase two – now it's for the European Union so start giving a bit back, and if they don't, then these talks will break down and you do face the prospect that Britain may well just leave on WTO rules."
On Tony Blair's view that public opinion will swing against Brexit
"The 'dream of Brexit' isn't just winning in the United Kingdom, it's winning in Catalonia, Hungary, Poland and all over the European Union as we speak. There is a major historic change that I believe we're not even in the middle of. Blair bases everything on a series of economic predictions, and I would just point out: he was wrong about the Exchange Rate Mechanism, he was wrong about Britain joining the euro, he was wrong – albeit non-economic – about the war in Iraq, and people like him about the referendum saying dire things would happen… We've just finished the year of '17 with growth higher than predicted, with manufacturing production the highest for 30 years, foreign direct investment at record levels… Hey, Britain's doing pretty well!"
On the argument for a second referendum on a Brexit deal
Farage: "We voted to leave."
Euronews: "But it could be very different…"
Farage: "We voted to leave. It's very simple…"
Euronews: "But on what basis? It's changing all the time."
Farage: "We voted to… It hasn't changed a bit. We voted to leave. Do you know why? We wish to govern our own country. End of."
On what he has learned from the meeting with Barnier
"I've learned the absolute incomprehension of the European Commission as to why Brexit happened, which suggests to me it'll happen in other countries too; I've learned that the British government is not pushing immigration as an issue at all, and I've learned that the next round of negotiations is going to be even tougher than I thought they were going to be.
"I go away with the hope of one thing: that I have sowed a seed, I hope, that if it is a 'no deal', it's European companies and European workers that will get hurt far more than British workers. They need us actually far more than we need them. And I'm hoping later in this week when a couple of quite big British business figures come here, he may begin to get some more of that narrative. I hope in the end, he becomes concerned that the Brits are getting so fed up they might walk away, that it could really, genuinely hurt Europe – and then it'll be his job to put the interests of European citizens above the interests of these glass and steel structures."