EU officials fret over Trump Israel policy
Comments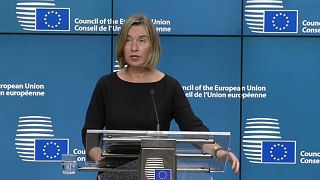 EU officials are worried about US President Donald Trump's move to recognise Jerusalem as the capital of Israel.
The bloc's foreign policy chief told Palestinian president Mahmoud Abbas that the status of Jerusalem must be negotiated through peace process.
"The EU supports the resumption of meningful peace process towards the two states solution. We beleive that any action that would undermine this effort must absolutely be avoided. A way must be found through negotiations to resolve tha status of J'lem as the future capital of both states"
EU foreign policy observers say the bloc is united on this issue.
"I believe that there will be unanimous agreement that this decision does not advance the narrow hopes of the Israeli-Palestinian peace process, it is gradually reducing it and creating unnecessary security risks," said Marc Pierini of Carnegie Europe.
Pro-Israel organisations hit out at the EU, suggesting that Europe was favouring the Palestinians.
"Such a declaration of simply recognising the basic facts in history would not preclude future negotiation over the future status of the disputed part of East Jerusalem. So I very much regret that the EU disagrees with this," said Daniel Schwammenthal, AJC Transatlantic Institute.
The Israeli Prime Minister Benjamin Netanyahu is set to hold talks with EU foreign ministers in Brussels on Monday.