NATO foreign ministers look to boost security ties with EU
Comments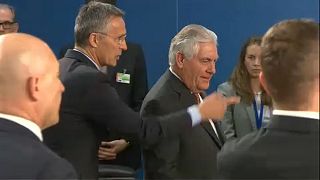 NATO foreign ministers meet in Brussels on Tuesday to discuss the Alliance's ability to adapt to evolving security threats.
The two-day gathering risks being overshadowed by the future of US Secretary of State Rex Tillerson amid reports that Donald Trump is about to be replace him with CIA Director Mike Pompeo
But NATO Secretary General Jens Stoltenberg insists the speculation will have no impact on the meeting as there is no confusion over Washington's foreign policy.
"NATO ministers are able to focus on the core task; on the job we have to do, despite any speculation and rumours," said Stoltenberg. "I am absolutly certain that will be the case also now because we have so much important work ahead of us for instance adressing how can we respond to a more challenging and dangerous security environment. How can we make sure that the Transatlantic bond remains strong".
Stoltenberg said ministers would also explore means of expanding cooperation between NATO and the European Union. That cooperation, which is already at "an unprecedented level", will help the two organisations respond to challenges such as cyber attacks, terrorism and the need to improve military mobility.
The secretary general also said that ministers would discuss global threats like that posed by North Korea's weapons programmes. North Korea is "undermining the global non-proliferation, arms control and disarmament regimes," he said, and "the whole world needs to apply maximum pressure".