Munich security forum to look at EU global role
Comments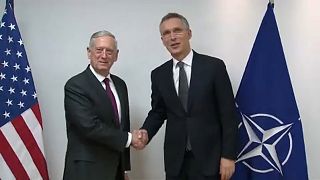 As NATO ministers wrap up two days of talks, the Munich Security Conference kicks off on Friday (February 16).
This year's focus is on the European Union and its future role as a global actor
Russia's 2014 intervention in Ukraine alarmed EU member states formerly part of the Russia-dominated Soviet bloc. Brussels has responded with plans for greater integration of national armies.
NATO this week also took steps to support rapid troop movements across Europe and to protect sea channels with North America.
But the real threat to Europe may come from within, says Sven Biscop of the Egmont Institute
"The idea that somehow Russia can directly threaten Europe doesn't work. I think the only way that Russia could be a threat to Europe is if Europe weakens itself. If we open a crack and if some governments continue to sabotage collective european decision making then they are opening a door for the Russians which the Russians by themselves could never open".
Decision-makers expected in Munich include US Defense Secretary James Mattis, Russian Foreign Minister Sergey Lavrov, and NATO Secretary General Jens Stoltenberg.