The Brief: Schaueble says 'Auf Wiedersehen' to Eurogroup
Comments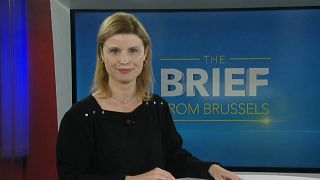 He has been the most influential Eurogroup minister in recent years. For many in Europe, he was the face of Berlin's orthodoxy in matters of public finances. We are talking about the German Finance minister, Wolfgang Schäuble, who is saying farewell to his European Union colleagues during meetings in Luxembourg this week.
Some Eurogroup finance ministers have commented on the crisis in Catalonia. The region accounts for 20% of Spain's wealth, a country which is the fourth largest economy in the euro zone. The president of the Catalan government intends to declare independence on Tuesday. I have my colleague Ana Lazaro, of the Spanish service here with me to give us some insight on the matter
The Socialist Trade Union in Belgium called for a "reaction day", on Tuesday, against the federal government's policy on public services. They accuse it of reduced budgets, lack of investments, and privatization of public companies. The strike does not have the support of the Christian and Liberal unions.