EU gets tough on cyber security
Comments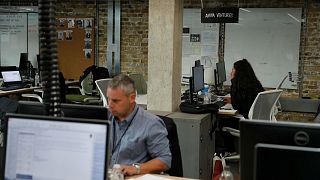 The European Commission says it wants to bring in new measures to beef up protection against those trying to steal data, commit fraud or even destabilise governments.
Last year, there were 4,000 ransomware attacks a day, according to the Commission, and the economic impact is deepening.
"Now, it can reach our economies, it can reach our personal lives. It can reach our democracies. It's important there are concrete steps forward, so there is a common approach, better coordination to reinforce confidence for citizens and industries in member states," said Digital Commissioner Mariya Gabriel.
A new law is being proposed to combat crypto-currency fraud. The European Commission also wants to see the bloc's cyber security agency, ENISA, based in Greece, increase its staff, double its budget – and launch operations to help see off attacks.
"The problems which will probably be created regarding the safety of the networks, they will certainly threaten the physical situation of the people in the future and not only machines," said Vassilis Maglaras, Greek Secretary General of Telecommunications.
"Therefore, ENISA has a very significant role to play. It will be the most important organisation in the future because it will be in charge of creating the system of European defence."
It comes after the European Commission President, Jean-Claude Juncker, said in his recent State of the Union speech that cyber defences were not up to scratch.