EU's Barnier sees no 'decisive progress' on Brexit
Comments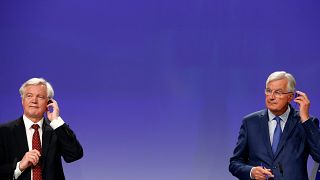 There has been no "decisive progress" during the third round of Brexit talks, the EU's chief negotiator Michel Barnier said on Thursday, as he urged the British government to provide more clarity on its demands.
The Frenchman said the UK and EU27 sides were still quite far apart on a number of key issues, adding that there could be no discussion about the future relationship between the two until "sufficient progress" has been made.
"The UK wants to take back control, it wants to set its own standards and regulations, but it also wants to have these standards recognised automatically in the EU, that is what the UK position papers say. This is simply impossible: you cannot be outside the single market and shape its legal order," said Barnier at the end of the talks.
But Brexit Secretary David Davis said that the European Commission, which is representing the 27 other EU governments, needs to show more "flexibility and imagination" in its approach to the negotiations and that the EU side should "put people before process".
"Beyond the debates about process and technicalities, at the heart of this process, must be a desire to deliver the best outcome for the people and the businesses of the European Union and the United Kingdom."
Key issues in this round remained focused on citizens rights, border issues on the island of Ireland, and the financial settlement that the European Commission wants Britain to pay upon its departure from the bloc.
"We are a country, which meets its legal obligations, and we will continue to do so, but these have to be real obligations," Davis said. "We have a duty to our taxpayers to interrogate it rigorously," Davis said.
Estimates for the so-called 'Brexit Bill' rang from 50 billion to 100 billion euros; EU officials argue the UK must honour financial commitments that it signed up to before voting to leave the European Union.
The next set of talks are scheduled to take place on the week starting September 18th.
Both sides had hoped to open talks on a future trading relationship by October, but that now looks unlikely given the lack of progress so far.