Brief from Brussels: Commission looks again at Polish law changes
Comments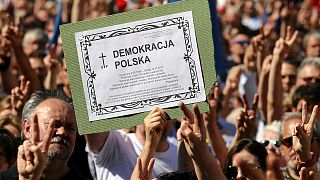 Polish rule of law under the microscope
The European Commission is once again examining the rule of law in Poland.
Every Wednesday the European Commissioners meet in Brussels for the weekly Commission's College. On the agenda of this week's meeting is the safeguarding of the rule of law in Poland.
The EU's attention was caught in January 2016 after the controversial reform of the Constitutional Court, initiated by the Conservative Polish government.
More recently, it is The reform of the judicial system in Poland that concerns the European institution. As explained by spokesman Margaritis Schinas.
EU-Turkey tensions
Despite current tensions, the EU and Turkey maintain their political relationship.
The Turkish Minister of European Affairs travelled to Brussels yesterday to meet Federica Mogherini, the bloc's head diplomat.
The meeting comes amid a climate of mistrust.
The Europeans denounce the extent of the purges carried out by Turkish authorities after last year's failed coup.
Netanyahu trip continues
Israeli Prime Minister Benjamin Netanyahu is continuing his European trip. Today he will meet the leaders of the Visegrad group, namely Poland, Slovakia, Czech Republic and Hungary.