EU's Tusk says UK PM May's offer on citizens rights "below our expectations"
Comments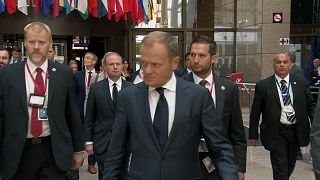 British Prime Minister Theresa May's "fair and serious" offer on EU expats rights has been rebuffed by two senior Brussels officials.
May says anyone who has lived in the UK for more than five years will automatically get the same rights as British people.
That's not enough, according to the president of the European Commission.
"That's a first step, but this step is not sufficient," said Jean-Claude Juncker as he arrived for talks on the second day of an EU summit in the Belgian capital.
His comments were echoed by Donald Tusk, who chairs all EU summits.
"My first impression is that the UK's offer is below our expectations and it risks worsening the situation of citizens," the former Polish prime minister said.
Both the UK and the EU say they want to strike a deal on the rights of the 3.2 million EU citizens living in Britain, as well as the 1.2 million Britons living abroad.
A written proposal is expected to be sent on Monday, with Tusk promising that the EU 27 would analyse the proposal line by line.
All eyes were on French president Emmanuel Macron, ahead of his first EU summit as leader.
He said that he wanted greater scrutiny on foreign investment and 'fairer' rules on global trade.
President Macron and German Chancellor Angela Merkel were keen to present a united front at a rare joint press conference.
"The partnership between France and Germany is the necessary condition for Europe to go forward. But it's not the only condition," said Macron.
The pair will hold talks again at next month's G20 summit in Hamburg, Germany.