Brussels terror investigation ongoing
Comments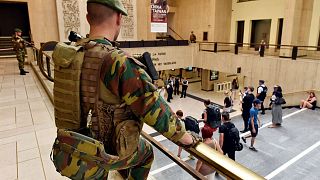 The investigation into the attempted terror attack on Tuesday is ongoing.
But initial indications are that the bomb suspect was not on a terror watch list.
The man, a 36-year-old of Moroccan origin, was known to police for drug offences.
He died of his injuries after being shot by Belgian military officers.
"We were very lucky, because the problem is when you arrive at the last line of defense, which is physical security, on the street. (Yesterday), so we can not protect everything, we can not protect all the schools, all the churches, all the public places, so there is a choice to be made," said Claude Moniquet, a expert in counter-terrorism.
The suspected terrorist lived in Molenbeek, a neighbourhood that has been under the microscope for jihadist links.
Authorities in Belgium say the country remains on the second highest level of terror a