Portugal freed from debt mechanism, as Spain threatens Greece
Comments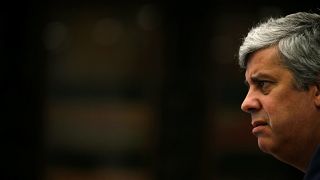 EU finance ministers have taken Portugal out of its Excessive Debt Procedure. Lisbon has been under the action since 2009, in a bid to dig it out of its debt problems.
By 2016, the country's deficit had fallen to below three percent of GDP. But Portugal's finance minister said it has been a painful process.
"It was possible for Portugal to leave the excessive deficit procedure with a different policy, a policy that has denigrated for many months, both towards the Government and also damaging the image of Portugal," commented Mario Centeno.
Meanwhile, the Eurogroup of finance ministers may block a 8.5 billion euro loan to Greece if it does not grant immunity to privatisation agency officials from Spain, Italy and Slovakia.
A Greek prosecutor charged them in 2015 with embezzlement over a sale and lease-back deal of state-owned buildings. The case is still pending.
"If one sees that the Greek government is adopting all the necessary measures so that the process ends with an acquittal, it's clear that the loan will be paid," said Luis De Guindos, Spain's Economy Minister.
Greece says it will do "whatever necessary" to immediately settle the legal case.
Eurozone governments have thrown the country its latest lifeline and are sketching out new details on possible debt relief, allowing Athens to avoid defaulting on bailout payments.