FN stronghold warns new French president on pro-EU stance
Comments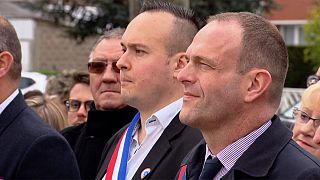 Henin-Beaumont, in the north of France close to the border with Belgium, is a National Front stronghold.
More than 60 percent of voters there backed Le Pen, rejecting the pro-EU policies of president-elect Emmanuel Macron.
"With this kind of talk and philosophy, he'll hit the wall, because the French people don't see that as a priority for the president of the republic, he is president of the French republic above all And not just a member state of the EU," said Steeve Briois, the local mayor and an FN member.
The National Front has long targeted Henin-Beaumont, which is a former mining hub.
Marine Le Pen once served on the town council and held her first-round celebration there.
Noël Charles backed the left-wing firebrand, Jean-Luc Melanchon, in the first round.
He said he voted against Le Pen, rather than for Macron.
"We voted to block Marine Le Pen, Macron was not our candidate," he told euronews." We are not too much for Europe, We are not for Europe, but we do not want to close borders either."
Philippe Louchart runs a local bar in Henin-Beaumont; he backed Macron but warns that he needs to temper his enthusiasm for Europe.
"Here we are still part of Europe and therefore our policy will be Europe, he said. "It must be a Europe that is balanced for all."