EU officials stand firm ahead of Brexit meeting
Comments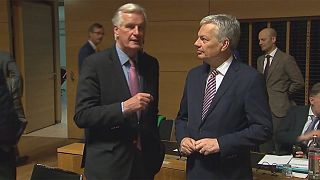 EU officials are talking tough ahead of a forthcoming Brexit summit.
The 27 governments say they are more united than ever ahead of Saturday's meeting to adopt the bloc's negotiating guidelines.
Michel Barnier, the European Commission's chief Brexit negotiator, told reporters: "We are united, we have a clear line and we are ready".
No real talks will start until after the British election on June 8th, which Prime Minister Theresa May called last week.
But Germany's chancellor Angela Merkel had a word of warning for hardline eurosceptics who believe they can also strike a trade deal in paralell.
"Negotiations about Britain's EU exit will demand a lot in the next two years, not only from the European Union but also from Britain itself. I think there is no doubt about it. We can therefore assume a strong signal of unity from the European Council of 27 on the day after tomorrow."
British PM Theresa May told European Commission chief Jean Claude Juncker on Wednesday that she wants a deep and special relationship with the EU after Brexit.
The pair held talks in Downing Street on the process of Britain quitting the bloc.