EU steps up child migrant protection
Comments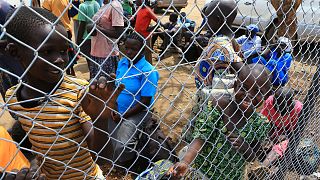 A surge in migrant children arriving in the EU has exposed gaps in protection. Now the European Commission's setting out a range of actions to step up for support for young people, from the moment they arrive to further down the line.
It is offering continued training and funding to member states, to make sure children always come first.
"They will be treated in a more dignified way. They will be protected from abuses and the other element, that is also very important, is that they will be reconnected and reunited with their families," Dimitris Avramopoulos, EU Commissioner for Refugees and Migrants, told Euronews.
Around one in three asylum seekers in Europe are children. The actions proposed include faster identification and status decisions, adequate reception conditions and for priority to go to children in resettlement and relocation.
The relocation of asylum seekers is slow across all ages. Poland and Hungary have stonewalled an EU scheme, others have also dragged their feet.
One-hundred-and-sixty thousand people were supposed to be moved from Greece and Italy, but so far only around a tenth of them have.
A further 17,500 have been earmarked for relocation but are still waiting in the two countries.
Poland and Hungary are being threatened with legal action if they do not take a share. Fines had been proposed, but there's been little political backing for that.