Germany stands-up for EU 'precious legacy'
Comments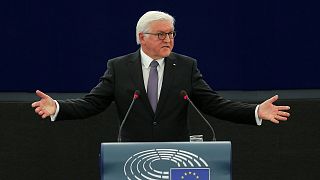 In the face of rising populism and nationalism, Germany's newly-elected Federal President has delivered a message of defiance in the European Parliament.
Frank-Walter Steinmeier, addressing MEPs in Strasbourg for the first time in his post, was full of praise for the EU – vowing his country would stand up for the "precious legacy."
"We Germans want to keep the European Union together, we want to build a common future in Europe, together with our partners, both large and small, having equal rights and being equally committed," he said.
Steinmeier told MEPs that it was "naive" and "irresponsible" to imply that terror or climate change can be fended off with walls and barriers.
"If we want to be a beacon for the rule of law and human rights in the world, then we have to care if this foundation shakes in the heart of Europe," he said.
"And Europe must not be silent if civil society, even science, as it happened at the Central European University in Budapest, the air they breathe is taken away. Europe must not be silent," he continued, to rapturous applause.
Steinmeier criticised Brexit as a "bitter thing." We're not losing sovereignty in Europe, he said, we're gaining strength through it.