Don't be against us - plea of Syrian refugee family in Luxembourg
Comments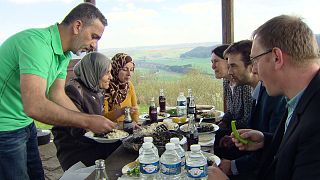 Just 16-thousand migrants have been moved from Italy and Greece under a controversial EU relocation scheme.
Ali Alfauori, his wife, and two children, from Syria, are in that number.They were smuggled to Greece and now, many months after being held in various camps, have been transferred to Luxembourg.
They are now being housed temporarily in a reception centre.
"My son was killed three years ago, and my nephew after my son, about eight months," Ali told Euronews. "My son was 16-and-a-half, and my nephew was 21.
"Syrian people are very kind people, but they are looking for their opportunity in life again. Don't be against them, try to deal with them, try to sit with them, try to speak with them, try to understand why they leave their country."
A Dutch MEP, who met the family a year ago in Idomeni, in Greece, is calling on the EU to do more to offer legal routes for refugees.
"Europe should be the place to open up," Kati Piri told Euronews.
"We know who are coming, if they take them to legal pathways and not to smugglers. You can do all the identification before and we can still show our human our our human side as the European Union, by taking the most vulnerable refugees. It's not happening enough."
Luxembourg has so far accepted 277 migrants – like Ali and his family – under the EU quota system.