Brussels terror victims remembered, one year on
Comments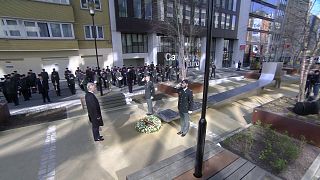 Families of the dead, survivors and officials have joined together in Brussels – to remember the victims of the city's terror attacks, one year on.
Sarah Esmael Fazal, whose sister was killed, broke down in tears as she addressed those gathered at the main remembrance ceremony, close to the EU institutions.
"Please make sure that all these beautiful souls have not left us for nothing. Let's promise to take care of each other as Sabrina would have wished," she said.
The King and Queen of Belgium, who attended, took time to speak to emergency workers, the victims and their families.
Those touched by terror elsewhere – Paris, Nice, Turkey and beyond – were also invited to the ceremony.
"Dear families, with countless victims around the world, you share these deep wounds, caused by deadly madness," King Philippe told those gathered.
The terror that came to Brussels last year was the worst in Belgian history.
It was just before 8 a.m. local time that two suicide bombers blew themselves up at Zaventem airport, the explosions tearing through the check-in area in the terminal building.
Then, just over an hour later, close to the main EU institutions in the heart of the city, a third bomber struck on a train at Maelbeek metro station.
Thirty-two people were killed in all, more than 300 injured.
A minute's silence was held on Wednesday at the airport, at the exact time the attacks happened. There was also a remembrance ceremony at the metro station.
Jonathan Selemani, whose girlfriend was killed at Maelbeek, joined the commemorations.
"It was difficult at first, we thought whether to come or not. But I think for her we have to be strong, we really have to be strong and face our fears. And I believe we did this as a family today, it was all respectful."
To mark the anniversary, a monument to the victims was inaugurated close to the EU institutions.
Reporting from Brussels, Euronews' Damon Embling said: "This monument carries the message, 'wounded, but still standing.' And, one year on, that's the message of solidarity and defiance Brussels wants to send out, as it continues to mourn in the wake of the terror that touched this city."